Some may say that copying is slowly becoming a thing of the past in this day and age. When information can be easily transferred and communicated with just a click of a button or a swipe of a screen. Many are arguing that reducing something to paper is becoming obsolete, so much more so is making copies.
However, these claims cannot be anymore untrue. Making copies and sticking with the conventional mode of disseminating information is something that we cannot completely do away with. Here are some of the vital uses of a copier.
Copiers are able to make multiple copies in a very speedy manner. Being able to produce multiple copies of a particular document is the central function of any copier. This function is important so that information can be relayed easily and in a fast way on a face to face level. This approach is employed as a great tool for marketing and provides a more personalised and personified way of relating to others and giving a more human connection.
Ability to provide a physical copy of the material such as fliers, pamphlets and brochures. While the internet has essentially and inevitably changed the way we communicate with each other, the need for posters and printed advertising materials have time and again proven to be a more impactful and essential tool for marketing and advertising. Having the feel of paper adds to the experience and brings forth an element of sincerity and familiarity.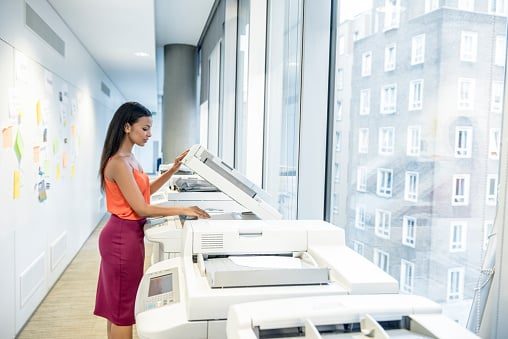 Copiers are essential especially in schools of learning institutions. The need to provide learning materials are many students is necessary in order to aid the students in their learning journey. Modules and books needed for studies are better appreciated in physical copies since it is easier to keep track, annotate, correct, review and refer. It is also safer in terms of maintaining the integrity of the contents of the document. 
Copiers are able to provide a secure connection for the sharing of information. Many copiers have the ability to not just make copies but to make digital copies as well. This way end users will be able to use the documents and materials in a more seamless manner. These digitised copies can then be emailed directly to a targeted recipient. Additionally, most copiers have the capability of connecting to a network, which can be done by way of cables or either through a wireless means. This way the copier can be connected to other mobile devices. This will allow the end user to work freely and remotely and be more productive in an environment that he is comfortable in. 
There are many reasons as to why copiers or copy machines are important not just to business enterprises but to other organisations as well. From the most basic function of being able to make copies to being able to transfer data and information digitally by converting a physical document into a digital mode. In addition, the technology being developed and incorporated into the copier devices are proving to be vital to many businesses and brings about efficiency in workflow functions. The ease with which a particular job is done and completed means that the user will be able to apply himself more and put focus on the quality of the work. Having a machine that allows you to multitask and perform multiple functions is necessary in any field and ensures that the organisation will be able to keep up with competitors. In essence, a user will be able to maintain a good quality output by utilising all the features of the copier.
If you are in Orlando and you are looking to purchase a copier for your business, you may contact clear choice technical services in Orlando. You can ask about copier leasing services in Orlando, copier rental services in Orlando, and copier repair in Orlando.